Wedding Invitation Inspiration
Wedding invitations are a prelude to your big day, designed to give guests a hint about what is to come and to set the mood. This makes them the perfect place to seek all the inspiration you need for other parts of your wedding, including the wedding cake. There are a number of ways to match the two, including level of formality, motif, colour palette, mood and style.
Level of formality
Wedding invitations communicate a lot about how formal a wedding is going to be, despite the fact that many people haven't made an official decision about this when they write their invites. This is communicated in a number of different ways: design, print type, colour, wording and dress code. A classic design that looks like it could have come from the royal family indicates formality, as do premium print options like letterpress or foiling. A monochrome or muted colour palette often correlates with formality, while fun, colourful invitations tend to be more casual. Keep an eye on whether the wording of the invite is fun and humorous or stilted and formal, and remember to check the dress code. If all these things are pointing to a formal occasion, the cake should follow suit.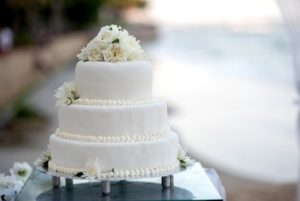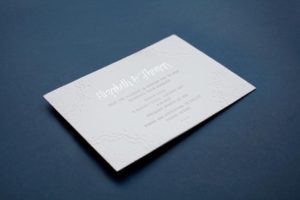 Motif
If there is a design element or motif in the wedding stationery suite, consider how you can carry that into the wedding cake. This might mean flowers that match those on the invite, sprigs of greenery, or cake toppers that copy part of the design. One great example of this is bunting, a popular motif at many weddings. It is often used on the invitations, and a bunting cake topper can easily be made to put on the wedding cake, or fondant bunting can decorate the edges of each tier.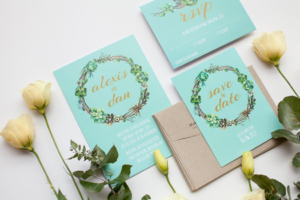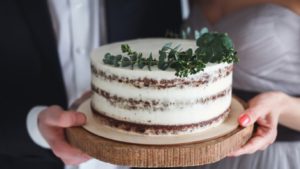 Colour palette
Colour is the easiest way to tie together different elements of your wedding. Most people choose a range of complementary colours as their wedding colour palette, and try to make sure they choose things that fit within this group of colours as much as possible. Usually colours are chosen before the wedding invitations are ordered, but the invite can be used as a source for colour inspiration if nothing has been chosen sooner. If the wedding invitation features rich pinks and greens, it makes sense to carry those colours over into the wedding cake.

Mood
Sometimes it's hard to put your finger on the precise reason, but a wedding invitation just has a mood about it. It might be whimsical or restrained, girly or sophisticated. It's something about the combination of design elements, colours, wording and other details that just works together for the outcome. It's possible to achieve the same mood in the wedding cake through entirely different means, or by variations of the elements in the wedding invitation. The result? Even though they don't 'match', the two just go together.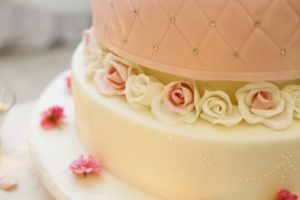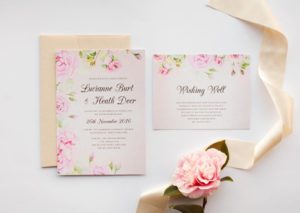 Style
Wedding invitations typically come in a particular style, like geometric, floral or nautical. This may or may not be a central motif in the wedding as a whole, but it's a great idea to echo the style of the stationery in the wedding cake. That means a geometric design or cake topper if the invite is geometric, or nautical style decoration. A trending style for both invites and wedding cakes is watercolour, which creates an artistic effect that really stands out and works with almost any colour palette.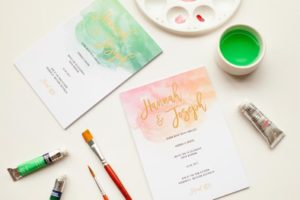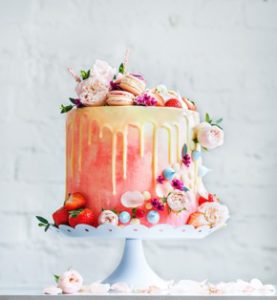 It's always important for a wedding to have a thread that runs through it, connecting different elements and making everything feel like it belongs. By planning your wedding cake based on the wedding invitation, you ensure the cake will be a perfect fit with the rest of your day.
This was a guest post by Maddison Wallace from Paperlust. Maddison is head of content at Paperlust. She is a communications professional who loves words and drinking cups of tea.
Website: https://paperlust.co/
Facebook: https://www.facebook.com/paperlust.co
Pinterest: https://au.pinterest.com/paperlust_co  
Instagram: https://www.instagram.com/paperlust.co/