Quinceñera: A right of passage.
A quinceñera is the right of passage towards womanhood and is also one of the most important days in a Mexican girl's youth. This onorable tradition has been passed down from generation to generation, creating a meaningful step towards becoming a young woman within her community and her family.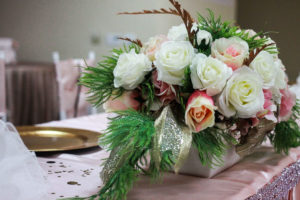 The day is spent with family and friends, while dancing and eating; coming together in celebration to formally introduce her to adulthood. The components behind creating this special day are carefully thought out and planned. From themes to colors, to the presentation of the young woman's tiara and shoes, these moving parts are vital to incorporating "girl to young woman" symbolisms throughout the event while celebrating la festejada.
When it was time to create the cake for Jade, our quinceñera, we worked on creating a contemporary look based on her inspiration boards.  Jade was looking for a modern design with a elegant feel. We took into consideration her color palates and floral arrangements as well as the colors of her dress and even her invitations.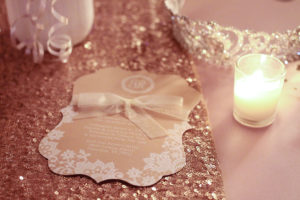 The cake decor is just as important for a quincenera as it is for a wedding.  The white 3 tiered cake was complimented with the colors pink and peach. Floral bouquets were placed on each tier creating volume and height; a minimal elegant approach.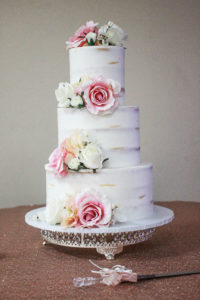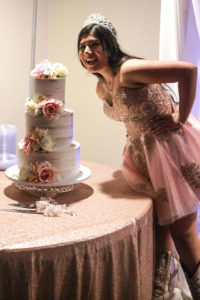 In the end we were thankful to be a part of her celebration through our cake creation; it was a part of such a special and cultural moment in this now young woman's life.